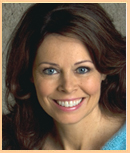 Cheryl Richardson is the author of the New York Times best-selling books Take Time For Your Life, Life Makeovers, Stand Up for Your Life, and The Unmistakable Touch of Grace.
Cheryl was the team leader for the Lifestyle Makeover Series on The Oprah Winfrey Show, and she accompanied Ms. Winfrey on the Live Your Best Life nationwide tour. Cheryl hosted The Life Makeover Project with Cheryl Richardson on the Oxygen Network, as well as two Public Television specials Stand Up for Your Life and Create an Abundant Life. Cheryl has a weekly call-in radio show—Coach on Call on HayHouseRadio.com®.
Her latest book, The Art of Extreme Care, was published by Hay House in May 2008. Her new Grace Cards and Experience the Power of Grace CD set are now available at her website where she writes a regular column for Body+Soul magazine and hosts a large online community.
Visit: www.cherylrichardson.com