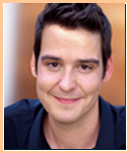 Dougall Fraser is a Psychic and Cosmic Coach and expert in the business of futures. Whether you want to examine your past, present or beyond, Dougall Fraser has a special ability to tune into your life. His relatable voice, down to earth humor, and dead-on predictions got him named Best Psychic in Dallas at the age of 20. Thirteen years later he has garnered international recognition in countless media outlets.
His international clientele ranges from CEOs and celebrities, to people just like you who may need extra insight. His main purpose is to help people assess and attain the life that they dream of. Dougall utilizes clairvoyance, intuition, empathy, color therapy, interior design, and practical advice to help people achieve their goals and dreams.
Dougall has been featured on many national TV shows, including The Real Housewives of O.C., Dancing with the Stars, VH1's Best Week Ever, The John Walsh Show and Good Day LA!
Visit: www.dougallfraser.com