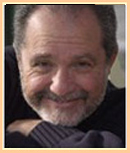 Stephen Simon (co-founder of The Spiritual Cinema Circle) is a veteran producer whose distinguished career includes the Presidency of two major production companies and the development and production of a myriad of well-known films such as: Smokey and the Bandit, The Goodbye Girl, Somewhere in Time, and the Academy Award winning What Dreams May Come. He is also author of the definitive work The Force is With You: Mystical Movie Messages that Inspire Our Lives.
Stephen co-founded The Spiritual Cinema Circle, which which is the first distribution company exclusively dedicated to the genre of Spiritual Cinema, distributes films on DVD to a worldwide audience in over 70 countries and has been featured in major publications such as Newsweek and Entertainment Weekly. Simon's current film project is producing and directing the motion picture
Conversations With God, based on Neale Donald Walsch's best selling book series.