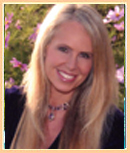 Doreen Virtue, PhD. is a spiritual doctor of psychology and fourth-generation metaphysician working with angelic, elemental, and ascended-master realms in writings and workshops. She has authored books about angels, chakras, Crystal Children, Indigo Children, health, diet, and other mind-body-spirit issues, including the best-selling Healing with the Angels and Messages from Your Angels books/angel cards.
Doreen is the founder and former director of WomanKind Psychiatric Hospital at Cumberland Hall Hospital in Nashville, and directed three outpatient psychiatric centers, that included adolescent drug and alcohol abuse.
Her work has been featured in McCall's, TV Guide, Woman's Day, First for Women, Vegetarian Times, Lotus, Woman's World, Miracles, Bridal Trends, USA. Today, The Los Angeles Times, The New York Daily News, The Boston Globe, Men's Fitness, Shape, and The Denver Post.
Visit: www.angeltherapy.com