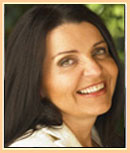 Colette Baron-Reid is an internationally acclaimed intuitive counselor, with a client base spanning 29 countries. A powerful motivational speaker, performer, and storyteller, she is a popular guest on radio and television throughout the world,
Also s musical artist signed to the EMI Music label, Colette has a best-selling meditation CD, Journey Through the Chakras, as well as two albums of her songs. Her latest release is a double CD, I Am/Grace; one disc of original songs, and one disc of meditation music.
Colette allows her intuitive channel to show her pictures, images, names and story lines that she then describes. She shows a person where they have come from, where they are today and what they will likely manifest in the near and distant future.
Visit: www.colettebaronreid.com