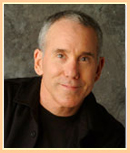 Dan Millman is a former world champion athlete, university coach, martial arts instructor, and college professor.
After an intensive, twenty-year spiritual quest, Dan's teaching found its form as the Peaceful Warrior's Way, expressed fully in his books and lectures. His work continues to evolve over time, to meet the needs of a changing world.
Dan's thirteen books, including Way of the Peaceful Warrior, have inspired and informed millions of readers in 29 languages worldwide. The feature film, "Peaceful Warrior," starring Nick Nolte, was adapted from Dan's first book, based upon incidents from his life.
Dan and his wife Joy live in northern California. He has three grown daughters and two grandsons.
Visit: www.danmillman.com