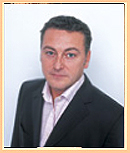 Gordon Smith, an astoundingly accurate medium, travels around the world to appear before audiences, read for celebrities and demonstrate his abilities. His extraordinary skills have attracted the attention of university scientists researching the paranormal and countless numbers of journalists and documentary makers. His outstanding abilities as a medium have brought comfort and healing to thousands worldwide.
Books include: The Unbelievable Truth, A Medium's Guide to the Spirit World and Spirit Messenger, The Remarkable Story of a Seventh Son of a Seventh Son.
"Smith is down to earth about his heavenly talents" says The Sunday Telegraph and '"Gordon provides exact names, addresses, events and descriptions sharply relevant to a person's life and the lives of those they have known." says a Emeritus Professor of Astronomy, Glasgow University.
Visit: www.thepsychicbarber.com