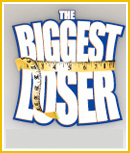 NBC's popular series "The Biggest Loser" airs on Tuesday at 8 p,m, ET. It's all about getting healthy and changing lives forever.
With obesity now one of the leading causes of preventable health problems in the United States the show presents contestants who discover key competitive ways to weight loss success. "The Biggest Loser" is the winner.
Often the viewer at home shares the season with their fan favorite and discovers steps to help themselves stay on a healthy track through diet and exercise.
Visit: www.NBC.com